Signature Loans from US Financer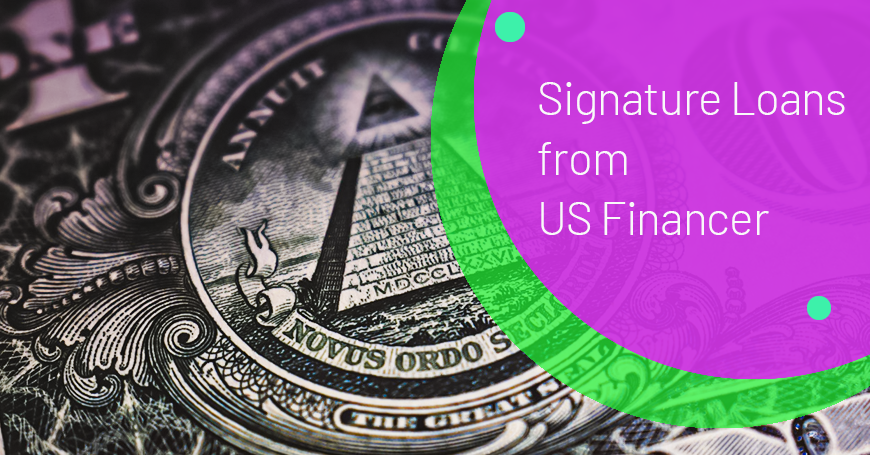 There are several types of loans in the market. A type of loan that has fixed rates and requires an online signature is a signature loan. You can obtain a signature loan even without collateral, in most cases. The funds can be used for any purpose that you choose. And depending on the lender that you choose, you can receive the money in your account without waiting too long.
A signature loan is usually granted with a fixed rate. Similar to other loans, you can use a signature loan to pay for medical emergencies, sudden repairs, and other urgent bills requiring immediate attention.
You can also use a signature loan to consolidate debt, pay for tuition, re-decorate your home, or pay for tuition. A signature loan is very handy when you stumble upon any situation that needs immediate funds.
USFinancer has a wide network of lenders that can accommodate your request, regardless of how your credit looks like. Even if your credit is less-than-stellar, the right lender can offer a loan with reasonable interest rates. You can be granted a loan depending on your qualifications, including your work history, income, credit score, current loan obligations, and bankruptcy history.
Lenders who will offer you a loan need your signature as an acknowledgment of the terms and conditions of the loan contract. Some may require additional requirements which you will need to supply to process the loan. The APR (annual percentage) of the loan will differ from a loan provider to another. Factors such as credit history, income, and the laws of the state you reside in influences the loan's terms and conditions.
A signature loan is also a type of personal loan that you must repay on time, only with an e-signature affixed to the loan contract. Unlike payday loans, you can borrow a larger amount and pay the loan over a longer period. There is no limit on how and where you can use the loan.
| | |
| --- | --- |
| Loan Amount | Up to $5000 |
| Interest Rate | Varies |
| Lender | Direct Lender |
| Min. Credit Score | None |
| Loan Terms | Short Term |
Benefits of Signature Loans
Obtaining a signature loan has several benefits including:
Get access to bigger loans amounts. Although credit cards and payday loans offer immediate access to funds, the maximum loanable amount or credit limit may not meet your specific needs. A signature loan provides higher loan amounts than payday loans and other short-term, unsecured loans.

Enjoy lower APRs and longer terms. Signature loans have reasonable interest rates that are competitively lower compared to other short-term loans.

Manageable payments. A payday loan is very handy when you need an emergency loan but these must be paid back within two weeks or your next payday. The good thing about signature loans is that you can pay the loan in equal installments over a specified period, making repayments affordable and manageable.

No collateral required. Borrowers with poor credit will find it challenging to obtain a loan without providing any collateral to secure the borrowing. Signature loans usually do not involve any credit check so one can obtain a loan even with no collateral. This means you don't have to surrender your car title to get credit. Signature loans are great options for people with bad credit who want to improve their credit score.
How Can I Get a Signature Loan Online?
Obtaining an online signature loan is not complicated at all. USFinancer makes the process simple and straightforward so that borrowers do not have to experience the bureaucracies observed from traditional lenders. You don't have to provide any collateral to secure your loan if you work with the right lender. It's completely easy to get a fixed-rate loan whenever and wherever you are.
What are the Requirements and Qualifications for a Signature Loan?
The borrower must be 18 years old and above

You legally reside in the United States

You must have proof of employment and income

You own an active bank account, either savings or checking

You should have a working mobile number and email address
After submitting the requirements to your chosen lender, the lender reviews your credentials before finally giving you feedback. Online lenders process loan requests quick, thus you can expect a reply from them almost immediately. Depending on the lender you work with, you will be able to get the loan proceeds in no time.
Understanding the Loan Terms and Conditions
Different loan lenders will normally have their terms and conditions. Before signing any loan agreement, you must know the applicable regulations in your country or state. Some laws impose limits on interest rates to protect borrowers. You can always choose a loan provider that meets your needs. For borrowers, you should qualify for a loan based on the requirements of the lender which include your monthly income and creditworthiness. Terms and conditions will vary from lender to lender, thus your responsibility is to fully understand them before taking out a loan.
It is also imperative that you understand the loan features. In case there is anything that you want to clarify, reach out to your lender immediately. Although most people skip the fine print portion of the loan contract, it is advisable to read through it to prevent any future complications.
Signature Loan Approval
A signature loan may be obtained with a co-signer or on your own. If you take out a signature loan with a guarantor, he or she will be responsible for the debt payments in case you do not make timely payments. If you are asked to become a co-borrower, make sure you know the borrower very well so that you won't be left paying for someone else's debt.
Shopping Around for the Right Loan
It is important to compare different lenders before deciding which loan provider to work with. Remember to compare the APR (annual percentage rate), payment duration, the installment amounts, et cetera. When you shop around for the best loan, you will understand the total loan cost which is essential in assessing your affordability.