No Credit Check Loans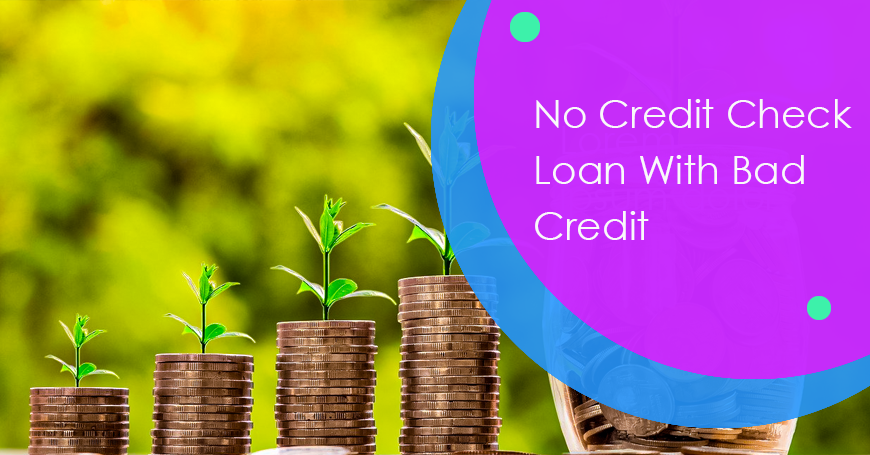 People with a lousy credit history or those with no credit score may find it hard to get personal loans without guarantors. But there are financial services offered to those with this kind of situation. These days, it is possible to take out a loan with being checked for your credit score. Although it might not be as easy as taking out a regular loan from a bank, there are many ways for you to succeed.
You have to figure out first if this type of loan is your only option. You have to be aware that a bad credit loan has several disadvantages, too, like more stringent terms and higher interests. Thus, they are not usually recommended for those who are qualified for some basic loan offers.
A check on your credit will not hurt your score and will give you a better picture of the kind of loans that you might qualify for.
| | |
| --- | --- |
| Loan Amount | Up to $5000 |
| Interest Rate | Varies |
| Lender | Direct Lender |
| Min. Credit Score | None |
| Loan Terms | Short Term & Long Term |
What is Your Debt Score?
Not many people are aware of their credit scores. Some quickly get nervous when thinking about looking into their debt files. For many with little or no credit score, they have what we refer to as a "thin file." It means that their history only has a few credit accounts. Most of the time, people with this record will find it challenging to open a new credit account. It is their lack of history that makes lenders doubtful of their risk; thus, they are denied on their loan applications.
Whether a borrower has a thin file or lousy credit, understanding what is in the report before applying for a loan is essential. When you know where your credit stand, you are more confident to face lenders. Checking your records first may give you a better overview of your ratings and may qualify you for a regular cash advance with low interest and reasonable terms.
Generally, credit companies look into your FICO Scores when considering you for a new loan. The scores range from 300 – 850, with 669 as the threshold for proper credit score. Ratings falling below this mark are already considered as fair or poor. On the other hand, scores beyond 700 are viewed as good or outstanding.
In case you discover that your FICO score is nowhere in the good or excellent range, it is best to look for a credit company that offers loan without guarantor. You can check out Experian to get a copy of your credit file for your future use.
How can I get a loan without a credit check?
If you don't have immediate monetary needs, it is best to improve your score first so you can be comfortable with your loan. Bad credit will be significantly enhanced with timely payments, low credit utilization, and no credit application. In a few months, you can raise your score by more than a hundred points if you make an effort in these three factors.
But in case of an emergency financial need, there are several options that you can consider apart from an application for no credit check loans. For instance, you can apply for online installment loans for bad credit. It is one of the most accessible types of loans to pay because they allow borrowers to pay monthly instead of requiring payment for the loan and interest at once.
On the other hand, most lenders still will check your credit, so you have to look around first for a lender that will approve of your application despite your low score. One option that you can use is to apply for loan brokers who will match you up with lenders that do not conduct a credit check.
Installment loans also come with origination fees, which are generally included in the APR that they show you during the offer. With these kinds of loans, it is easy to compare the APRs than just the interest and variable fees.
Short-Term Loans With No Credit Check
Another option that you can consider is the short-term cash advance loan that is offered by no-credit-check lending companies. Although they are known to come with exuberant rates, not all types of short-term loans are dangerous. Some lenders will skim your record so they can limit their risk and charge lower fees than necessary. Thus, don't settle for the first no-credit-check company that makes an offer. Several online lending companies have competitive suggestions that might be well-suited to your current situation.
However, make sure to go for offer from reputable lenders when taking out this kind of short-term loan. When they perform a check, the interest will be lower, but those that will not include pricier rates. At any rate, make sure to take out a loan that you can may payments comfortably.
Which loan company is best for bad credit?
There are various means for you to get a personal loan for bad credit with no guarantor loans or credit checks. Here are some of your best options:
Online Lending Companies
You can find online lenders offering services for people with thin credit files or have a bad credit history. These lenders will consider the features of your profile beyond the credit scores when you apply for a fast cash advance.
Credit Union
Members of a credit union may immediately take out a bad credit no guarantor loans without credit checks. These unions are well-known for offering financial assistance with reasonable terms. Likewise, they are also willing to consider other information apart from credit records to gauge the applicant's trustworthiness.
Additionally, membership in a credit union is usually based on your employer, your locality, or affiliations. Consider joining if you are eligible for membership and take advantage of their low-interest offers.
Payday Companies
Another popular option for people seeking quick, bad credit loans with no guarantor loan offer is payday loan companies. These lending companies are all over the internet, and it is straightforward to apply for the money you need straight to your bank account. However, they often have very high APRs; thus, they are usually the last resort. Moreover, payday loans typically have shorter repayment periods that range from two weeks to one month.
Title loans are another alternative, like payday loans. It is also processed fast, and a consumer can get their money within one business day. You may qualify to get the amount you need, even without a credit history . However, you will be asked to turn over the title of your car as collateral. In this option, the vehicle must be yours, and lenders will grant you an amount that is similar to the value of your vehicle. Failure to pay the amount borrowed can lead to forfeiture of your vehicle to the lender.
Although you can get your cash in your bank account in one business day, payday and title loans do come with a varied mix of interest and fees. Consider applying for these loans only when you don't have any other options.
Are No Credit Check Loans Safe?
Various types of lenders offer no credit check loans for bad credit without a guarantor. There are reputable and predatory lenders that allow borrowers to take out personal loans even if they have bad credit ratings. For you to be sure that you are dealing with the right loan agency, consider these three essential factors:
Rate – it is the cost of borrowing money. Generally, it is expressed as the interest or the percentage of the principal amount that will be charged to the borrower. If its loan will extend beyond a year, it is the APR or the annual percentage rate.
Term – it is the period between loan funding and when the principal plus fees must be paid.
Repayment Capability – it is also the lender's responsibility to assess the borrower's capacity for payment. They should lend out money that the consumer can pay within the terms they set.
In case of an emergency financial need, a no credit check might be the right service for you. Try to borrow from family or friends first. You may also check if you can use your build your credit card or apply for a secured personal loan. But in case you have a bad score, then you can consider getting unsecured loans. To stay safe in your loan application, be sure to understand the terms being offered.
Likewise, your potential lender should also make an effort to understand your financial situation and capacity for payment. If you are applying for a personal loan that does not include credit checks, make sure that they see your income and employment documents.
Does CashNetUSA check credit?
CashNetUSA is an online lending company that is connected with Expedian loans. They use alternative ways of credit check for no-credit-check loans. They assess the applicant's ability to pay and current financial status rather than relying solely on the credit history. Likewise, they use the company's underwriting model to know whether the applicant is eligible or not. Keep in mind that if you have defaulted on your previous loan transactions, you might not be qualified to take out a loan from CashNetUSA.
What are the Pros and Cons of No-Credit Check Loans
One of the significant advantages of pursuing a no-credit-check loan is that they do not check your credit score to assess your eligibility for the loan. These loans are also quick and convenient, and you can apply through online portals and get your cash advance amount within the same day if there are no other issues. Those that need immediate finances, these types of loans are an everyday go-to solution to their problems.
On the other hand, these kinds of loans also come with several disadvantages. One of the most glaring is the high-interest rates and the short term set for payment. It is a kind of payday loan; thus, lenders will expect you to repay the whole amount within a two week or one month period. More so, some quick loans require some form of collateral, and once you are unable to pay, the lender has the right to take over your vehicle or property.
Therefore, it pays to take caution when taking out any loan, especially if you have bad credit. Look out for warnings when lenders do not conduct credit checks or don't even check your income. They might also be unregistered or unlicensed. Compare offers from various lenders before pushing on with your plans.